There's a massive parking lot just north of the Santa Monica pier. If you're coming from the North, heading South on PCH, it's a breeze to get here. Just take that ramp on your right before your turn East onto the 10.

If you're on the 10 heading West, you want to try to avoid the situation where you're stuck on the PCH trying to make a left into one of the beach lots. Weekends are busy.

Santa Monica pier offers these directions if you're heading West on the 10.
From the north or south on the 405 Freeway, take I-10 West. Drive west on I-10 and exit freeway at 4th/5th Street exit. Go north on 5th St. to Colorado Ave. Make a left on Colorado Ave. and drive straight to the Pier at Ocean Avenue. If the parking lot is full (if the lot on the pier is full you'll be directed to) make a left turn on Ocean Avenue and proceed two blocks. Make a right turn on Seaside Terrace. Follow sign to Pier/Beach parking.
Either way you want to end up here. Looking West from Appian Way.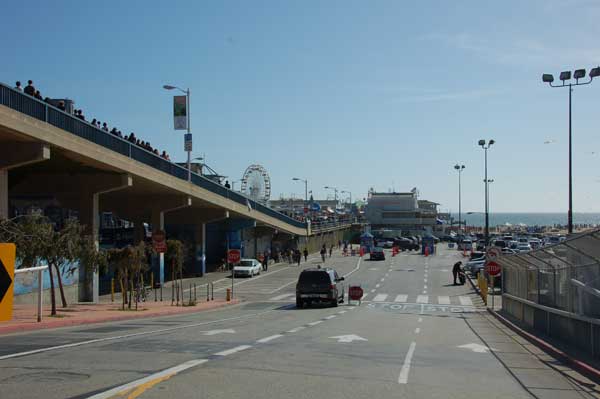 Rates today were General $8. Buses $48. and RV's $32.

Let's get our bearings. Looking North from the pier.


On the left is the Veterans For Peace memorial installation.
We're less than a quarter mile North of the bike rental places we looked at in the last post. About a 1/2 mile further north is our final bike rental destination. Another Perrys! Where Arizona would meet the sand, if there wasn't a cliff.