Where Windward meets the beach is probably the center of Venice Beach proper.
There are a few park and pay spots right on Windward West of Pacific, but not many, and the lots here are expensive. There's also no U-turn so your only way out is a turn South at Speedway and that gets ugly. There's actually quite a lot of street parking East of Pacific in the residential streets around the 'Venice Circle' but they go quick on the weekends.
At the corner of Windward and Pacific is Café Collage a great place to grab an espresso as you head in. Next to the Cafe is a local market that features great sandwiches. if you need some cash, there's a Bank America.

Artist Jonas Never's 'Touch of Venice, is a new mural. This parking lot charges $15. It's on your right just before you have to make the left turn at Speedway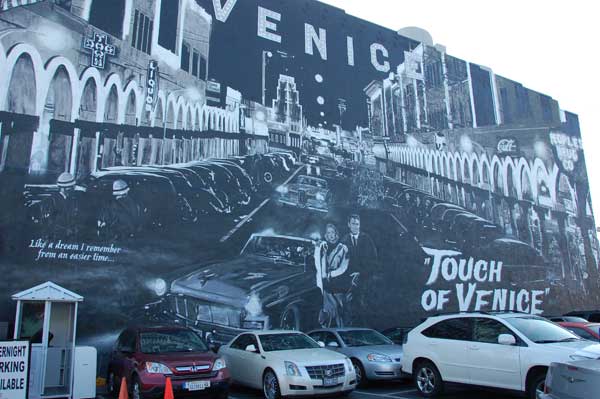 where you'll find this lot. On this busy Sunday they were charging $20, but on a slower day I've seen it as low as $10.
Let's grab a bike! Jay's Rentals. NW corner of Windward & Speedway. P.S. You can see a bit of an R. Cronk mural on the West side of the Cotel. Worth checking out.

They got it all! By the way, you're only about a block away from the bike rental places at
Speedway and 17th or 18th that we looked at back at North Venice Blvd.

You made it! You're here!

Before we leave Windward, I want to point out a couple of spots in case you're in need of food or drink. There's Danny's Deli, 23 Windward Avenue. With the Venice Beach Cotel upstairs – it's a hostel right on the beach!

A little more upscals is Larry's 24 Windward Avenue which sees a lot of action at night too.
(I'll have to go back and get a picture of Larry's). Next door is The Cairo Cowboy, which is new but I've been hearing great things. At 46 Windward Avenue

Next door is The Townhouse. A real bar that will make you feel like you're stepped back in time. 52 Windward. Cocktails.

Let's get back to our ride!