North Venice Blvd. runs right into this lot. It's a large lot and costs $5.
When it gets busy, it turns into a real bottleneck.

You'll pass another lot on your way in. This one's just East of Pacific at Dell. A hefty $15 on this busy weekend.

Look south from this lot and you can catch a glimpse of the Venice Canals.
Or get lucky! Street parking. Here I'm looking West down Venice Blvd. South.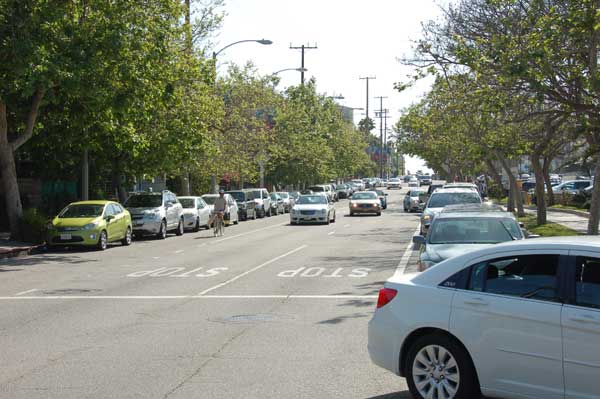 Okay, we're parked let's get bikes. Hey, there's another Perry's, right in the N. Venice parking lot.

Rates and Procedure.


In case you can't read that…
You have to fill out and sign a waiver. You need a credit card or debit card, a driver's license or a passport. Payment is cash only and rates range from $8 an hour to $25 a day for a cruiser, mountain bike or rollerblades.
Let's have a look at a couple of other out of the way bike rental spots nearby. The main Venice Boardwalk is actually Ocean Front Walk. This bike rental spot is just East on 18th Ave. just about a block North of the North Venice parking lot.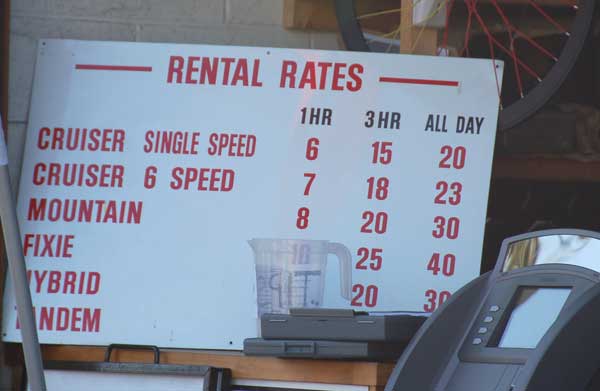 And another on 17th Ave.

If you're stuck in traffic in that last block of Venice North, West of Pacific, check out a couple of Venice landmarks. Here's the R. Cronk Abbott Kinney mural.

Or a favorite nightlife watering hole (with great food), James Beach, located 60 N Venice Blvd. 310-823-5396